Hi Beauties!
I have 2 new polishes to show you and so excited about these!
These are from the Megan Miller Collection. I actually seen one of these on a fellow bloggers page and fell in love. Immediately started to google where I could find them. I knew I needed some of these polishes!
I found their site which is:
http://meganmillercollection.com/
and let me warn you, when you go one your gonna want them all. OK, maybe you won't but I certainly do!
I was also informed that they can be found at Anthropologie stores too.
They retail for $12.00 a bottle and also they do a polish of the month and it is $9.00 which I think is a great thing to do!
Here is some information on them that I found on their website:
ABOUT THE MEGAN MILLER COLLECTION
The Megan Miller Collection is a collection of fine nail polish. It started as a vision of a rustic, natural elegance which utilizes the finest materials to provide that experience. The idea grew from the style and design infused into the product by our founder Megan. We've set out to develop a line which empowers and inspires confidence to 'Be Colorful', look good, feel good and be at your best!
Our polish is custom formulated with all colors being custom designed specifically for our line. Our polish is environmentally friendly and consists of the finest ingredients. It is elite in performance providing smooth application, fine finish and premium durability.
Our bottle is also custom designed specifically for our line. It is custom fitted with its own natural cork top. Each piece is hand tied with all natural raffia providing a unique feel and look to every piece. This truly makes each piece a one of a kind.
Our logo is a peacock feather. Inspired by the display the peacock portrays when its feathers are in full bloom, the Megan Miller collection aims to inspire you to show your grandest side with confidence and ease. Like the peacock, we look to blend a natural elegance in order to make you look good, feel complete and 'Be Colorful'.
How cute is the bottle!!! I just love it.
OK, OK, now onto the 2 that I
received: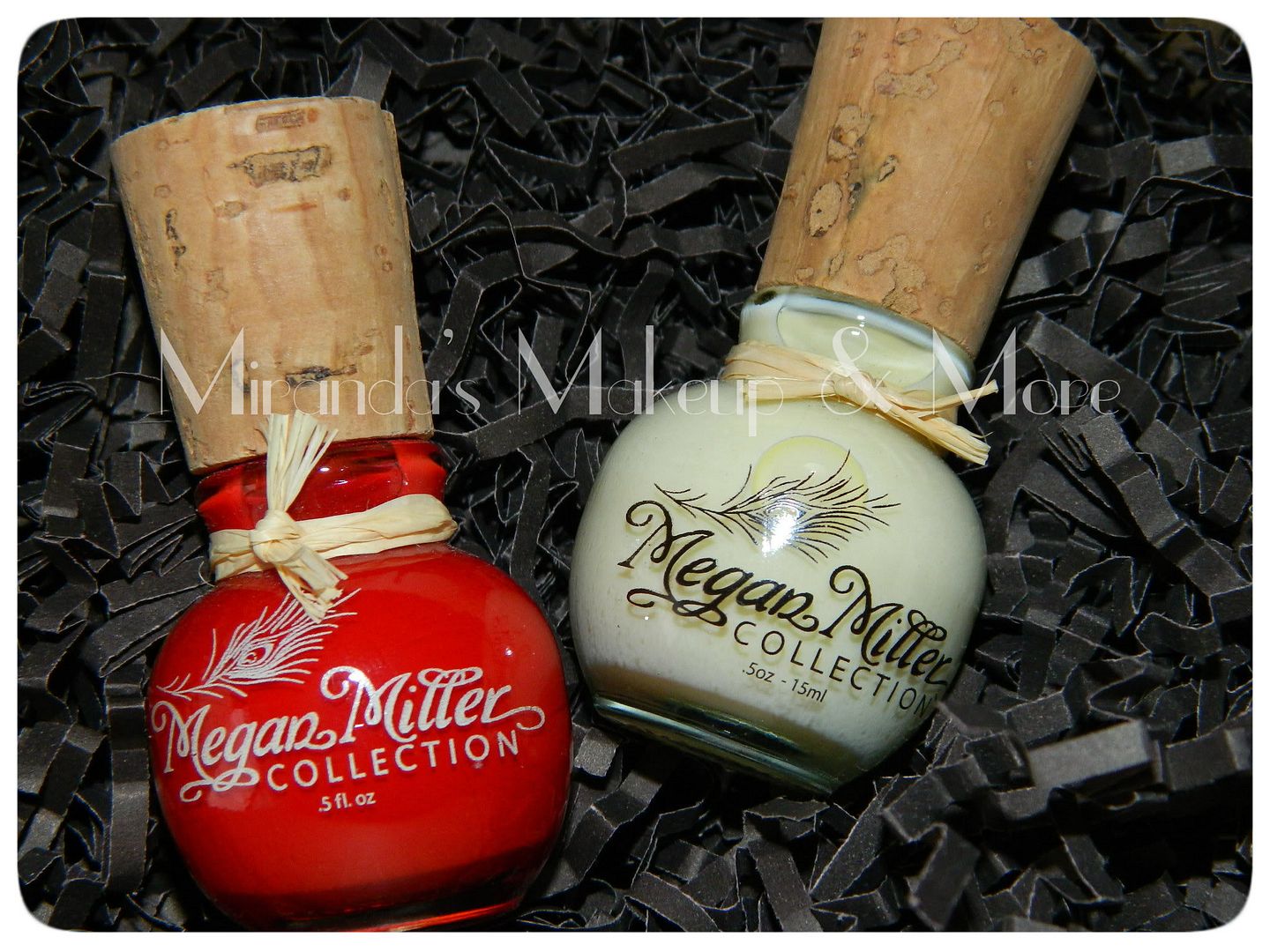 This is the polish of the month for July.
I am so totally loving both of these! They applied so nice and smooth.
I think lemon ice is perfect for doing jelly sandwich type of mani's and can't wait to try it out. It was a bit streaky but that is also my fault for not waiting a good amount for the next coat. It does take 3-4 to get to a nice color if you want to wear it alone.
Roja is a perfect red. It is stunning when on. I had it on and couldn't stop looking at my nails. There is just something about red nails that just always grabs my attention! Love it!
I really do want the whole collection now that I have tried these 2. I have no complaints at all.
*
These were sent to me free for review. All opinions are my own.
Have you tried any of the Megan Miller Collection polishes? Or plan too?